The strategy session was attended by Newicons design, strategy and marketing teams who joined forces with Mark Loveridge, Commercial Director and Darren Hunt, Head of Business Development at The Royal Mint, as well as Geoff Sampson, Director at Circulogic.
The partnership between Newicon and The Royal Mint was sparked after a meeting at TEDx Bristol, from there an opportunity to merge Newicon's mutual interests in sustainability and innovative technology led us to facilitate this engaging workshop focussed on circular economy and the role it plays in e-waste management.
"The Royal Mint is continually striving for original products, inventive processes, and sustainable solutions. Whether it's extending expertise into precious metals, investment products such as DigiGold or facilitating innovative ways to recover precious metals from electronic waste, there are many ways The Royal Mint is looking to the future and making it brighter. Therefore, an innovation workshop with Newicon seemed the perfect fit" says Mark Loveridge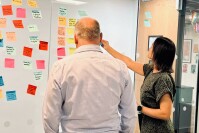 The innovation session was aimed at addressing one of the UK's most pressing environmental challenges – managing electronic waste (e-waste) more specifically we were collectively looking at - "Identifying challenges within the electronic waste industry".
After exploring the initial phases within the workshop session - Explore and Define we were able to efficiently refine this wide-ranging objective into a more tangible "develop" and "visualise" phase, thus using the afternoon to brainstorm ideas around "How to improve product supply chain visibility and deliver a premium customer experience."
E-waste is a huge growing concern. According to the Financial Times "Globally, we produce 50m tonnes of toxic electronic waste every year - and the UK is one of the worst offenders". As we continue to upgrade our gadgets, what happens to the old tech can often be an afterthought.
The Royal Mint's particular interest lies in the IT, enterprise, and telecoms equipment - essentially, waste electrical and electronic equipment (WEEE), their goal is to try to ensure that waste electronic equipment is no longer shipped overseas to countries for illegal disposal, or energy intensive smelting, but rather they are working towards championing a "green" system to recover precious metals from such equipment and to repurpose the gold recovered for high end jewellery and other by products into new manufacturing. The gold recovered from the e-waste is currently being transformed into beautifully designed and produced jewellery https://886.royalmint.com.
Instead of electronic waste leaving UK shores to be processed at high temperatures in smelters, the approach will see precious metals recovered at room temperature at The Royal Mint's site in South Wales. Initial use of the technology at The Royal Mint has already produced gold with a purity of 999.9, and when fully scaled up, the process has potential to also recover palladium, silver, and copper. 
During the workshop, we honed in on a critical issue: the challenges associated with procuring printed circuit boards (PCBs) and similar equipment. The team diligently brainstormed solutions for effectively acquiring, organising, and managing these resources while optimising their journey through the supply chain. Guided skilfully by Newicon's Head of Design, Ross, the team worked together to help illuminate the complexities of the problem space and delineate various personas. This engaging and visual problem-solving approach sparked a wealth of ideas from participants, framing the problem with crystal clarity. As a result, the workshop yielded numerous relevant points for consideration, particularly around:
Educating people on how best to go about recycling their goods and why they should choose to distribute their relevant IT waste to The Royal Mint.
How best to sort through the equipment once it arrives at The Royal Mints site.
The logistics of managing the stock internally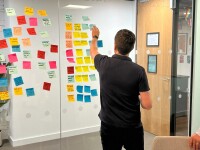 The Royal Mint's proposition is to offer a UK-based, sustainable treatment process for end-of-life data and recovery of critical raw materials like gold, silver, palladium, and more. The Royal Mint is focussed on sustainable innovation, and this project embodies that. However, the vision extends beyond just the retrieval of these materials. Equally important is ensuring the remaining components are redirected and remade into new products by other manufacturers.
This workshop marked the next stage of transformative possibilities for The Royal Mint within the e-waste system, a topic of global importance, touching lives and ecosystems across the world. We merely scratched the surface, but each phase and every suggestion from the team revealed another crucial stepping stone in the path towards a more efficient process.
Remarkably, by the end of the session every participant had contributed a unique vision, sketching out ideas for digital portals, apps, and business systems. It was profoundly inspiring to see the breadth of creative potential tapped into, showcasing the power of collective strength.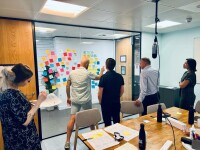 Our collaborative problem-solving approach during the session yielded invaluable insights and promising solutions. The journey towards a comprehensive resolution was inspiring, and we eagerly anticipate what the future holds.
To find out more about The Royal Mint's project for turning electronic waste to gold read here: https://www.royalmint.com/aboutus/press-centre/turning-electronic-waste-into-gold/
Find out how the innovation kit might help you find the solution to your business problem, contact us today: https://newicon.net/contact
You will be amazed at what can be achieved in a day!