If you're new to local search or are wondering where to start with your online marketing efforts, then don't panic — here's a guide.
Increasing competition in the digital world means it's important to try and stay ahead of the crowd when it comes to promoting your business online. Whether you're a new start-up just beginning your journey or an established company on the look-out for more business, local SEO can help.
But what is local SEO?
More searches are being made on mobile devices than ever, so local SEO is becoming increasingly important. But what actually is it?
Simply put, local SEO looks to serve search results that are relevant to a searcher based on their current location. For example, if I were to search for 'Best Italian restaurants' on my current desktop device (in a normal Google Chrome browser) I'd be shown the following results: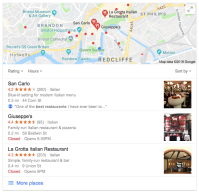 My search was made from the our office in central Bristol. The three-band maps listing that we see above is now a familiar site for us all. Here we can see how Google has provided me with results close to my current location. What's more, these search results appear to be organic (in search terms, rather than food).
Similar results appear with a quick mobile search: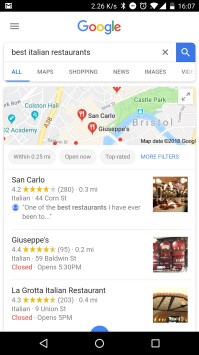 Why it's great for customers — and businesses
Local SEO allows local businesses to promote their products or services to customers actively looking for those products or services. Through Google My Business, as well as an array of business directories and social media platforms such as Pinterest, it allows prospective customers to easily find local businesses that offer what they're looking for.
Important information such as business names, services, telephone, email, address and website are displayed for each local business listing — making it extremely easy for users to pick up the phone, email or pop down to their store or offices.
Making the most of mobile
With more than half of all searches worldwide coming from mobile devices, the importance of local SEO is highlighted, with Google confirming that nearly one-third of all mobile searches are now local based.
What's more, reports by Impact BND state that 88 percent of customers who search for a type of local business on a mobile device is then likely to call or visit one of those businesses within 24 hours of the initial search. And, with the increased surge towards location-optimised search rankings by Google, now, more than ever, businesses are beginning to realise the importance of local SEO.
Watch this space
Hopefully, this has laid the foundation for your journey into local SEO. But, to really make the most of it, we'll need to go into a little more depth.
So that's what I'll do on my next blog. Stay tuned.