Pay-For-Click (PPC) advertising is a marketing method often utilised via Google Ads. PPC allows businesses, big and small, to pay to put adverts in front of their target audiences online.
If you've read our previous blog on PPC 'A Beginner's Guide To PPC Advertising' you'll know that a successful PPC campaign can help a small business grow quickly and efficiently.
It's a simple concept: You create your advert and Google displays it to the relevant people, then every time someone clicks on that ad you pay Google an agreed-upon fee.
If you're unsure about dipping into the world of Pay-Per-Click advertising, here are 6 key ways that PPC could benefit your business. 
Benefit One: It's easy to start
Starting a PPC campaign is incredibly easy. As long as you know what product you're hoping to advertise the rest requires minimal research. It takes minutes to set up, unlike SEO which can be much more time-consuming. It really is up to you to decide how much time you want to spend on optimising your advert.
There's little risk in trying it out as you're in full control of how much time and money you invest in it. 
Benefit Two: You could get instant results  
Once your advert is up and running, the results should be instantaneous. There's no need to wait, it will go live as soon as you want it to. Your ad will start appearing in search results and (if your ad is effective) the clicks and conversions should come rolling in.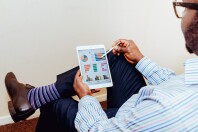 Benefit Three: It provides measurable results
Thankfully, all the resources you'll need to track the results are within the Google Ads platform. Profit, loss, and spending are all clearly laid out and comparable. From the very beginning of setting up your ad, the amount you'll be bidding for each keyword is clearly presented to you.  
Therefore, it's easy to calculate whether the ads are providing a profitable return on investment. Generally, if the amount that you're paying on the ads is less than the amount you're making in conversions (sales), then the ad is successful.
Benefit Four: It's budget-friendly
As mentioned above, clear costs make budgets easy to maintain. If your daily budget has been met Google Ads will not go over that capped cost. That way you'll never receive any shocking bills.
After you've started your PPC campaign it's important to track your clicks and converts. It's just as easy to mismanage budget as it is to optimise it. If you're getting numerous clicks but no converts you're just losing money. Tracking your progress ensures that you know which elements of your campaigns are working successfully.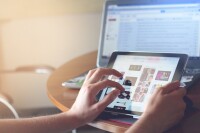 Benefit Five: You can reach your target audience
Something that is important to remember with PPC is that successful campaigns aren't those that generate the most clicks. Assuming that the conversion you're hoping to maximise is the sale of a product, success is measured in the number of sales made. Clicks don't always equal paying customers.
One way to reach those potential customers is through well-thought-out keyword bids. If you're trying to sell windows but only people searching for carpets are finding you, you need to rethink how you're reaching the target audience. Being specific also helps your quality score and therefore your ranking in search engines.
Benefit Six: You're in control (unless you want to hire a specialist)
The great thing about PPC (and Google Ads) is that it's fairly simple to monitor. You can pause campaigns and return to them whenever you see fit. You have total control, and you can put as much or as little effort into PPC as you like.
But, if your successful campaigns begin to plateau with no other solutions in sight, there are plenty of specialists that you can contact.
Hopefully, by now, you understand why PPC can potentially be incredibly beneficial to your company. 
If you need some outside help in setting up a PPC campaign, or if you're struggling to optimise your current PPC campaigns, give us a call today and we'll be happy to help.