The 2022/23 season has seen a talented young team go from strength to strength. Many of the squad started out together aged just six and have grown together to form a formidable football team, full of desire, coupled with plenty of technical skill and pace across the squad.
The season has been a real success with two of the teams going neck to neck at the top of the table all season. There had to be one winner eventually, but a Rockleaze one/two is something both teams should be very proud of, as even the mighty Manchester City can't boast a 100% (played 10, won 10) record! – end of season league table here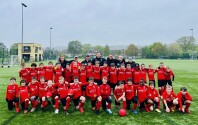 Newicon will be continuing our sponsorship and support for the team(s) as they move up into the Hanham Minor County league next season, playing nine-a-side on much bigger pitches and with the off-side rule. It will be a big challenge against stronger opposition. We very much look forward to following and supporting the team next season.

Our CSO, Mark's Son (Lucas) is back in contention for a starting place, having spent last season with North Somerset Academy, but with Rockleaze moving to play on Sunday's Lucas will be playing for both clubs, along with some of his team mates. Many of the players somehow manage to have energy to play for both clubs, with two training sessions and two matches every week! 
Congratulations to the players and coaches on another amazing season. We wish everyone success for next season and look forward to following the team(s) progression. 
If you want to follow the team(s) or get involved, then the club has teams across all age groups, right up to adult football, and caters for all levels of ability. You can check out the website here