Google My Business (formerly known as Google Places) is a free marketing tool offered by Google. It is designed to help business owners increase their online visibility, manage how their business information is listed and it enables them to easily connect with customers across Google Maps and  Search.
With a Google My Business listing, you can share your hours of operation, communicate important updates and respond to customer reviews. There are also helpful beta features which can boost awareness of your products and/or services. But first, you'll need to start by setting up your new business listing.
How to create a Google My Business listing?
Visit the Google My Business page and login into your Google account (or create a new account if you do not already have one)
Enter your business name
Choose a category that best fits your business 
Confirm whether your business has a location customers can actually visit
Enter your business's address and select a location on the map
Add the areas you serve (optional)
Add your business's contact information
Next step: verification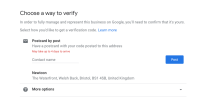 How to verify your Google business listing?
After you've set up your new Google business listing, you'll need to verify ownership by entering a 5 digit verification code. 
The verification code is most commonly sent via mail and should arrive within 14 working days; but there are alternative verification methods for eligible businesses:
By phone
By email
Instant verification
Bulk verification (10+ locations)
Once verification is complete, you will be able to fully manage and represent your business online. You'll just need to optimise your listing and ensure the information is kept up to date.

How to optimise your Google business listing
Google My Business is an incredibly valuable tool that helps you share pertinent business information, curate user-generated content and gather important insights about your customer base.
The listings are placed below paid ads and above the organic search results, which means increased presence and greater visibility for your brand.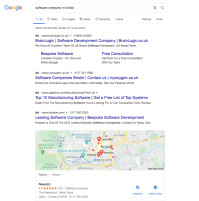 But how do you go about optimising your business listing and leveraging it for more sales.
Firstly, we recommend fleshing out your basic profile and adding as much useful information as possible.
Let customers know when you are open for business.
Direct traffic back to your business's website or create one [for free] using the Google My Business tool.
Share your business story and unique value proposition. Make sure to include relevant keywords and USPs.
Choose a category most appropriate for your business. If multiple categories are suitable, choose the most specific category, as there is likely to be less competition across search.
Add quality images to drive 35% more clicks to your website and receive more requests for driving instructions in Google Maps.
Use the product editor to showcase your business's products and drive customer interactions.

Then, we suggest using the following features to encourage discourse and regular communication with customers:
Use posts to share important information, such as promotional offers, flash sales, emergency updates and information about events.
You can also give customers an easy, simple way to book appointments or consultations.
Install the Google My Business mobile app and activate messaging so customers can message you directly and you can respond to questions and connect for free.
By encouraging positive reviews, you can increase the likelihood of being displayed in the top three local listings when customers search with "near me" phrases.
After which, it's a matter of regularly posting and ensuring your business information is kept up-to-date.

Getting started
Implementing the above recommendations should be an integral part of your digital marketing strategy. But if you're still unsure where to begin, then that's where we can help.
Whether you're looking to launch a new business startup or improve your current SEO ranking, we can deliver ongoing digital support, including assistance with Google My Business. 
We can also manage your paid activity, or help you to optimise your PPC campaigns from a blended search perspective. Just visit our website to find out how we can help or get in touch today.