On the 23rd February, Newicon hosted the first company vision day of the year. The aim of the day was for employees to come together and discuss the vision and goals for the year ahead.

The leadership team wanted employees to connect, have fun and understand how valued they are. It was an important couple of days to ensure everyone was engaged with the business objectives and made to feel a part of the success and growth journey that we are currently embarking on. We also hosted a project delivery reflection day on the 24th which saw the team celebrate all the great work delivered in 2022.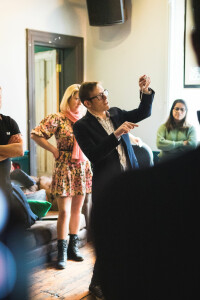 Over the course of the two days each department head reflected on the past year, an important part of ensuring any business is able to positively move forwards. There was a lot of cheering, encouragement and positivity within the room and it's fair to say that each and every team member came away with renewed energy and a revived sense of purpose within their roles.

These events acted as a reminder for those that had been with the team for a long time that world leading companies trust us with the successful delivery of their IOT software development projects for a reason, we are an awesome team of experts! For the newbies in the room, of which there were many, the presentations acted as a way of highlighting how important every person within our IoT and software development company is, and how they play a vital role in our success as a growing business on a daily basis.