Newicon recognised as one of Bristol's most innovative businesses
We're very proud to announce that Newicon will appear in the new book — Innovate Bristol. 
The publication — which has already showcased businesses in cities such as Paris, Montreal and Austin  — chose Bristol as its first UK location, recognising the city as one of the fastest-growing tech hubs in the world. The book is designed to highlight the companies that most represent innovative thinking in a given city; and businesses featured in are chosen by nomination only, ensuring an authentic representation of Bristol's innovative culture.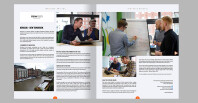 It's humbling to be put alongside some of Bristol's other most forward-thinking companies: the likes of Yellow Dog and Ultrahaptics. 
As anyone who's worked with us knows, Newicon lives and breathes innovation — we create innovative products and we work with start-ups across the region to create their own cool tech —  so it was fantastic to have this recognised by an international publication.
Even better than that, not only are we featured in a double-page spread in the book, our very own Mark Probert was also chosen to write a thought-leadership editorial for the book, sharing his thoughts on why innovation is important, and talking about his passion for the idea of open innovation.
You can read an online version of the book here.  
If you'd like to get a look at the printed version (which is fantastic), feel free to pop into the office some time — Mark's always up for a chat.