We're lucky enough to have the opportunity to build a lot of websites here at Newicon. And through that experience, we've learned many ways to make the process of building more efficient and, ultimately, more successful.
We've found, for example, that wireframes are a hugely important part of the process. They're a quick way to give clients a strong impression of how their site will function from a structural and interface point of view. 
We also learned that many of our finished wireframes ended up sharing certain components, regardless of the project.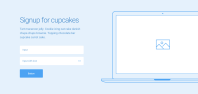 That's why we decided to create a useable set of wireframe components — saving us from creating similar components over and over and saving time and money for our clients. 
Now we're sharing these components with you. They should make it simple to create wireframes, and, ultimately, raise the quality of websites in general. 
You can take a look through the components using the link to Figma file below.

👉 Figma free wireframe toolkit
If you are using sketch then you can download the sketch files here. 
Have fun using these, and let us know what you create.