I have tried to write this article with sensitivity to the fact that some businesses are struggling right now more than others. Survival, especially in hospitality, travel, entertainment and manufacturing is the number one goal whilst we continue to navigate through this lockdown.
However, even for organisations who are in survival mode, this time can be a great opportunity to take a deep breath – as long as nobody from outside your household is within 6 feet – explore your long term goals and begin to create or reassess your strategic roadmap. And for many, digital will play a huge part in this strategy. 
Now a question: have you considered using 'design thinking' to assess where your greatest needs are? This could be customer experience,  operational efficiency or new products and/or services. For some, the answer will be yes, but perhaps you're not quite sure how to implement design thinking in your organisation or maybe you've attempted it in the past but didn't reap the benefits. Others will be left asking what the heck is design thinking?
Design thinking has been deeply rooted in global conversations that have been unfolding for decades.
Whatever your response, that's okay; but if the concept sounds like a new methodology or buzzword then let me confirm that simply isn't the case.
Design thinking has been deeply rooted in global conversations that have been unfolding for decades. Many large technology companies have their own depictions of design thinking, including Google who have recently launched their very own Design Sprints product (I'll come on to Design Sprints later, so don't run off just yet!).
How to approach design thinking?
There is no rulebook or "idiot's guide" 'when it comes to design thinking, only clear methodologies and well-practiced techniques. 
The purpose of this blog will be to outline some of those key principles and benefits as well as demonstrating how you can practically apply this way of thinking to your business challenges – so you can innovate, iterate and learn at pace.
Some background context
As an organisation, we've been familiar with the term design thinking for many years, but we've had our own version of it and developed our own way of thinking about it. 
In the early days, over 10 years ago, we went about solving technology challenges by taking a simple brief and helping our clients evolve their thinking into an app specification or piece of software. We created our very own work phase, to help clients further explore their ideas and called this "The Architecture Phase".
The architecture phase consisted of four key deliverables
1. Workshops – to flesh out ideas and validate both the commercial and technical aspects of the project
2. Design & Prototyping – to help everyone understand the solution and to bring it to life with visual designs and clickable prototypes
3. Technical Architecture – to explore the technical feasibility, integrations and outline a technical architecture
4. Project plan – this is where we breakdown the solution into feature backlogs, so customers can select features based on associated times and costs as well as being able to ascertain what will become the MVP (minimum viable product)
The architecture phase and processes were borne out of initially producing smaller websites but we soon realised that this approach would be suitable for large software solutions and embedded this into our culture. We won't take credit for inventing UX (User Experience) design, but we were certainly doing UX before the term was officially embedded into the mainstream. 
Our architecture process was a way of working through an often vague, client brief. It helped us to help other organisations brainstorm their ideas, understand where the true value lay and visualise their digital solutions at a rapid pace. The process would typically start at the beginning of a project and would require us to fully understand a customer journey, to produce an initial brief and evolve the solution from. 
These projects were often full digital transformations and they touched upon every aspect of a business but we didn't quite see the value in independent consultancy (in the early days!)
Now, as you may have gathered, we're using a new and improved design led approach to help customers validate and visualise their ideas – But, as I said, this all started way back in 2008.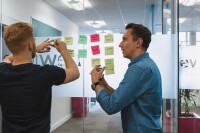 In the beginning, we were unaware of where the real value was in what we did. We considered whether it was our exceptional coding or UX design and then it became apparent that our value lay in the consultancy piece we did at the start of every project – developing a brief,  going beyond the brief and using design thinking methodologies.
We didn't just title our initial workshop and validation piece "design thinking" for the namesake. We actually wanted to take the client on a journey and we also needed something concrete to produce a proposal for, cost and begin to design a solution from. 
Now, we're helping organisations discover their pain points for either their customers or internal teams. We're breaking these issues down into 'high impact, low effort' ways of thinking and we're able to validate these ideas in a much faster time.
Nobody wants to invest large sums of money in something customers may not want, or the business may not really need.
Digital roadmaps with bumps and twists
Digital roadmaps are like a journey with meandering twists and bumps along the way. By breaking a journey into manageable sprints, with testing and learning along the road, you can stop at each filling station and take stock of what you have learned along the way.
By transferring our DNA to other teams, we can help them to apply their actions in a more agile and creative way.
How to plan your digital road-map?
A series of short, in-depth workshops covering all aspects of a business and their service offering is paramount. You have to consider and look at everything from brand and tone of voice to CRM, data structure and taxonomy, organisational requirements, legacy IT systems, skills and workflows. 
It's also equally important to listen to your staff, customers, the people doing the work, the people who buy from you and your suppliers. Since the research is aimed at evaluating the digital activity, tools, processes and people currently in place as well as what the future should look like.
The benefits
In order to demonstrate the benefits and risks of a digital solution, in line with the opportunity costs and savings, an in-depth business case is required – The business case summarises each individual aspect to enable a board to clearly define the investment required and balances this against the expected benefits.
The business case also needs to balance the research with innovation and excitement, whilst presenting substantiated benefits and a plan to ensure success. That's why, we prefer creating engaging slide-decks rather than dry, formal documentation. But this approach is also born out of our love for helping startups, as we regularly have to articulate and pitch a complex proposition to investors.
Conclusion
A strategic digital roadmap, that provides real benefits to organisations in the short term and long term, is an integral part of business planning. The main difference with Design Sprints is that it enables you to research, validate and design preliminary solutions in a much shorter period of time – days or weeks as opposed to months – although, additional time may be required to document those findings. 
You may fail and that's ok because design thinking is all about learning and failing fast. Allowing the best ideas to come to the surface, safe in the knowledge that they have been substantiated, tested and brought to life in a way everyone can see and understand. We make ideation and commercial research visual and engaging. That's the trick. That's design thinking.
Want to know more…
Click here to find out why the University of the West of England (UWE Bristol) have adopted our methodologies to teach design thinking and boost performance in their Engineering Without Borders program or check out our bespoke design sprint packages here.