It's time to meet another member of the Newicon team. This time, a sit down with Rhys, our new Digital Marketer...
 
What's your working background, and how did you come to work for Newicon?
Before arriving at Newicon I was working at an agency called Essence and lived in London. Recently I moved back to Gloucestershire to be closer to friends and family which led me to find this cool job!
 
Describe your job to a six-year-old.
I sit at my computer and tell people how they can rank really high on google when they search for certain words and phrases
 
What are you looking forward to working on the most?
I am honestly excited to work on all the clients I have been assigned so far as most of my work has been for pure e-commerce sites. Working for other clients such as Active Gloucestershire and even eventually helping optimise the Newicon site itself!
 
What excites you most about the future of digital marketing?
I get excited when clients are receptive and supportive of out of the ordinary ideas. The future still is digital and will continue to be so when we can offer something more creative and 'out there' you can apply all the basic skills of digital marketing and take it to the next level.
 
What tech breakthroughs do you think we'll be seeing in the next ten years? 
I want to see a phone produced with 100% recycled materials. Surely that must be possible?

What do you like doing outside of work, any unusual hobbies?
I wouldn't say anything too unusual but I like gaming and have built my own PC (I did recently grab a PS5 too), when I like to be a bit more sociable I have a little book club with my friends which will involve food and alcohol of course.
Favourite film/TV show/podcast?
Favourite film - Woman at War direct by Benedikt Erlingsson (Icelandic film based around a woman at war with the local aluminium plant in order to stop it producing in the her town)
TV show - Grace & Frankie
Podcast - The Laverne Cox Show or The Receipts Podcast
Do you have any hidden talents, or is there an interesting fact about you?
I released a little poetry book last year titled 'i am so tired of feeling this way.' it's free verse poetry that discusses anxiety/depression/bad eating habits. I was even invited onto BBC Radio Gloucestershire last month to talk about it.
Draw yourself!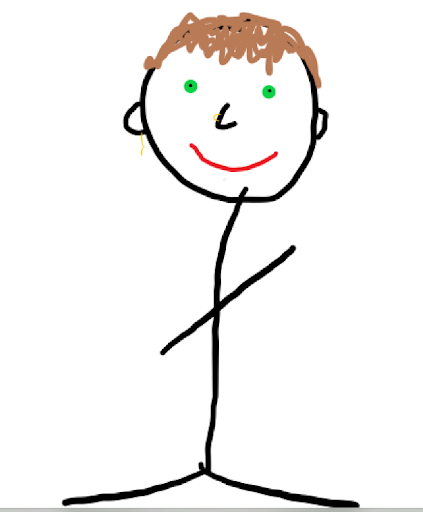 What book should everyone read? 
I won't say my book because that's cringe but at the moment I would recommend A Ghost in the Throat by Doireann Ní Ghríofa.
At Newicon we listen to a lot of music and make far too many playlists. What are your go-to songs and/or artists?
Emilie Nicolas - Let Her Breathe (album)
Aly & AJ - a touch of the beat gets you out on your feet gets you out and then into the sun (album)
Laurel - Scream Drive Faster (song)
Remi Wolf - Photo ID (song)
What's your favourite meme?
We're excited to have Rhys joining our Digital Marketing team! 
Keep an eye out as we continue this series and introduce Newiconites old and new.