With our design team workig on ever more interesting and complex tech projects the time was right to grow the team. We decided to add a paid intern to the team, and after a long interview process we consider ourselves very lucky to have found Kelsey! 
As is tradition here at Newicon we put our new starter questions to Kelsey so that you all can get to know her a little better. Here are her answers...
What's your working background, and how did you come to work for Newicon?
I have just graduated from the University of the West of England with a degree in Digital Media. I was unsure what route to go for in my career and chose this course due to the broad subjects that they provide, which is where I gained an interest in UX/UI in my second year. As a result of this, landed a design internship here at Newicon!
Describe your job to a six-year-old
UX design makes difficult things easier to use and UI makes them look pretty.
What are you looking forward to working on the most?
Im looking forward to the different types of projects I will get to work on and being able to continuously develop my design skills as well as hopefully learn new things along the way too.
What tech breakthroughs do you think we'll be seeing in the next ten years?
I believe smartphones will have some new advanced technology to them, perhaps holographic displays? AI features? Would be cool to see how developed they would be in 10 years.
What do you like doing outside of work, any unusual hobbies?
I like to play video games a lot and binge watching tv shows, usually anything Netflix has, but mostly Anime. I also enjoy reading and drawing sometimes.
Favourite film/TV show/podcast?
Anything Disney would be considered a film favourite!
Some of my top TV shows include The Office US, American Horror story and Friends.
What book should everyone read?
I read a lot of non-fiction, mostly thrillers or fantasy books, which isn't everyone's cup of tea but Stephen King's The Institute is a good read!
At Newicon we listen to a lot of music and make far too many playlists. What are your go-to songs and/or artists?
I listen to a range of genres, I never like to stick to one. My go to artists are Billie Eilish, Selena Gomez, BTS and Rihanna.
Share a meme that sums up you or your job…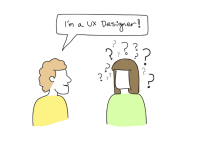 Draw yourself!
Here is a little cartoon drawing I did of myself some time ago!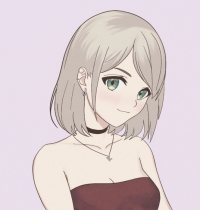 If you'd like to discuss a software project that needs some first-class UX design, get in touch today.