Magento is a powerful ecommerce platform and you can do a lot with it. However, let's not forget the basics! Managing your Meta information is an important part of SEO and conversion rate optimisation, yet, there is a lot of misinformation. Some information is much more important than others, and some things are simply ignored by search engines, so we've put together a quick guide to help you on the way to ranking stardom… Enjoy.
First off, to edit the meta-information for your page navigate to: Magento > CMS > Manage Pages > Choose Page > Meta Data.
Alternatively to edit the meta information for individual products navigate to: Magento > Category > Manage Products > Search Product Name (i.e iPhone 6) > Choose Product > Meta Information.
Take a look at this screenshot below for an example: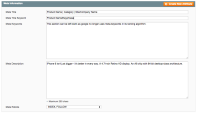 Now in terms of what to type in each of the boxes, Meta-information can be broken down into three key areas: Page Title; Meta Keywords and Meta Description.
Page Title
The page title is very important when it comes to SEO. It should list the key search term or phrases that you wish to rank for on google and other search engines across the web. Make sure to keep the keywords that you wish to rank for at the beginning of the title, as these are ranked sequentially. In other words the first few words will have the biggest impact on the page's SEO ranking. Keeping the same title-page format across all of your website pages is key. For site-wide consistency a common page title format includes:
Product Name | Category Name | Company Name
Location targeting can also be included here if you wish:
Product Name | Category Name | Location | Company Name
You can choose between using either | or – to separate each section as both have the same effect.
Here's an example of a listing in google:

The meta title is also the title of the page that appears on the tab, or header of the web browser.
You can edit the meta information for your page by going to: Magento > CMS > Manage Pages > Choose Page > General Information > Page Title.
Meta Keywords
There has been debate about whether meta keywords actually add any weight to your SEO rankings. Since 2000, however, the use of meta keywords has not been used in Google's ranking algorithm. Additionally meta keywords have very little effect on other major search rankings. This can therefore be ignored for the most part.
Meta Description
The meta description is the section of text that is seen below the page title in search results. Though this does not affect SEO rankings directly it can be useful in terms of click through rates, with words that the user has typed being highlighted in bold helping the user decide if your page is more relevant than others. If you leave it blank Google will create its own description.
In Summary
Through keeping a clear and consistent format in your page titles, and using targeted, to the point meta descriptions, you are giving your Magento site the best chance to rank organically on google – helping you bring in traffic to your product and category pages.
If you have any further questions regarding any of the above then please feel free to get in touch with one of our team and we'd be more than happy to help.