Like many businesses across the world right now, we've found ourselves in uncharted waters. At Newicon, we've always supported remote working, but for the first time in our history, our usually bustling office is quiet. As part of social distancing during the COVID-19 pandemic, our team is working from the comfort of their own homes.
Working from home, as many of us have discovered, can present a series of new challenges. So, we've all come together (virtually) to share our top tips to help ensure you're working effectively outside of your usual environment.
(Stick around to the end of the blog for some tips from our team that we can't guarantee will make you more productive, but we certainly hope will put a smile on your face.)
Trick Your Brain
Turning on "e;work-mode"e; can be a lot more difficult in the absence of your usual routine.
However, there are a number of ways you can create triggers for your brain to help signify that it's time to focus on work.
One of these triggers is to dress in the clothes you'd usually wear to work. As tempting as it may be to stay in your pyjamas all day, it probably isn't going to help you maintain a separation between work and life.
Another trigger involves trying to stay as close to your usual routine as possible. Although, this may not be easy for those tasked with home learning or caring for loved ones.
Tuning in to the tasks at hand can be difficult when you're working from home, largely because you're surrounded by distractions (and distractions that you love at that). So try to replicate your average working day as well as you can to limit wandering thoughts.
On the other hand, it can be just as easy to keep on working when there's nothing like a commute home to end your day. So if you find yourself working into the late hours, and the lines between work and life begin to blur, consider turning off your notifications and taking time away from anything work-related to signify to your brain that it's the end of the day.
If you find yourself thinking of work after this time, write down any niggling thoughts on a post-it note and leave it for you to come back to the next day.
Find A Good Workspace
Where you work can have a huge effect on your quality of work.
Try to find somewhere where you can use your screen without straining your eyes (or neck!), and make sure that wherever you're sat is supporting your back.
If you're going to be participating in video calls it might be important to prioritise finding a spot with a plain background behind you. As interesting as you probably are, if you're talking on a video call and there's a bookshelf, secret door or stash of embarrassing family photos behind you, you can bet everyone's going to be looking at that and not you.
 
Focus On Communication
Social distancing can be an extremely lonely experience. There are many advantages to staying in touch with your team (and family and friends), not only just to boost your own mental wellbeing.
Incorporating video calls to your routine can have a huge boost on team morale and productivity. Whether your calls are work-related or not, staying connected through this uncertainty will certainly strengthen your bond.
It's no wonder that companies like Zoom are reporting huge spikes in usage.
One of the stipulations of working remotely as a team is a loss of transparency. It can be harder to see what each team member is working on when you're no longer able to just walk up to their desk. Tasks can slip through the cracks, and keeping track of what you're all doing can feel impossible.
If you start to see this happen, it's time to evaluate the effectiveness of your current communication and start implementing methods, such as video calls or messaging platforms, to get back on track.
Keeping in touch is vital for the wellbeing of your team too, with scientists suggesting that social isolation is one of the worst things a human can do in terms of the physical and psychological consequences.
Maintaining good communication really can improve the wellbeing of your company as a whole.
Routine & Deadlines
If you're struggling to keep on top of tasks and can't seem to stop getting distracted by other things it might be time to consider upping your self-discipline.
Set a deadline for you to finish a certain task or allocate time slots to work on specific things to make sure you don't fall behind.
Adding some pressure to complete tasks, especially those that are mundane, should encourage you to spend your time a bit more wisely.
It can be hard to stay on track when you're displaced into a more casual environment, but don't let that lull you into bad habits.
Notes and Lists
Following on from our earlier point about leaving post-it notes for yourself, lists and notes are extremely important if you're more likely to be disturbed at home.
There are more distractions readily available at your fingertips so make returning to work easier for yourself and ensure you don't lose your train of thought with post-it notes and to-do lists, whether these are physical or digital.
One of our software developers suggested leaving notes in your code so it's easier to pick up where you left off if you get distracted.
Keeping track of tasks you've completed will also help you liaise with your team.
Fresh Air & Exercise
At the time of writing this, we're still encouraged to go out (at a reasonable distance) to exercise once a day. So make the most of it – especially while it's sunny!
Basking in a bit of sunlight can boost serotonin levels and ultimately make you feel better. If you're struggling to focus on tasks, get annoyed easily or are feeling down, these are all key pointers of decreased serotonin activity.
Psychologists report that "just 13-15 mins of exposure to natural light are enough to trigger the release of endorphins or "happy hormones".
Studies have shown time and time again that sunshine has powerful effects on our mental health. After all, exposure to the sun helps our bodies produce Vitamin D, melatonin and serotonin.
It goes without saying that any outdoor activities you partake during the COVID-19 pandemic should comply with the government's most recent guidance.
Use Your Time Wisely
Without your usual commute, you may find yourself with more time on your hands. This can be both a blessing and a curse.
As tempting as it may be to spend all your down-time streaming entertainment online, are there more valuable things you could be doing?
More time could open a window of opportunity for you to pursue projects that have been on the back burner. So why not use this spare time to do something for yourself? Whether you'd like to learn a new skill, read a book you haven't had time for, or start something entirely new, there are plenty of resources out there.
Research suggests that it takes between 12 and 66 days for a new habit to become automatic, so now might just be the perfect time to rethink your current habits and start afresh.
Allow yourself to embrace new opportunities while you can, and make the most of the little things.
Now for the fun stuff…
Play Some Music
At Newicon, we love collaborating on playlists to play in the office. They're a catalyst of debates and are the highlight of the week for many of us.
One of the dangers of working from home is the isolation; sitting in silence for prolonged periods of time when you're used to the noisy nature of an office is only going to add to feelings of loneliness.
So, why not put on some music?
It's worth noting that not everyone enjoys listening to music as they work, and it can be distracting if you don't find what works for you.
However, research has shown that listening to classical music as you work can increase productivity. In fact, a study by Scala Radio found that tasks were completed up to three minutes faster while classical music was playing.
Music is therapeutic and hearing familiar voices can help battle feelings of loneliness, so it might be worth considering listening to the radio even if you normally wouldn't.
(Plus, there are plenty of playlists out there to block out screaming kids or barking dogs.)
Blame A Fictional Co-Worker
As strange as this may sound, creating a fictional co-worker may help reduce tension in your household, especially if there's more than one of you working from home.
This tweet started it all, and it really seems to have taken people by storm: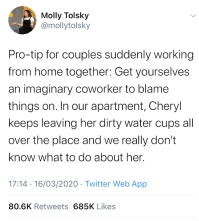 Invest In A Good Door Lock
If you're a parent struggling to maintain the zen of your home office, it might be time to invest in a good door lock.
Taking a serious call or video conference with the danger of kids running in or housemates walking past in their underwear can be stressful.
I'm sure we've all seen the viral video of the BBC interviewee who was gatecrashed by his young children.
So if you're particularly worried about finding time to yourself, then it might be worth finding a good lock.
(Or just pop a sign on the door letting them know you're not to be disturbed.)   
Although, we do think it's worth mentioning that interruptions from family life are nothing to be embarrassed about. Locking yourself away like Harry Potter under the stairs isn't going to be good for you or your family. 
If anything, giving an insight into your home will only help to forge connections and mutual understanding.  If you're interrupted why not apologise and move on, or make introductions between the parties involved like you would in any other circumstance? It's much better than pretending your home life doesn't exist. 
There we have it, we hope these tips will help you while you work from home.
If you're struggling during this difficult time, it's important to remember that you're not alone. There are plenty of people in the same position as you right now. It's often in times like these that communities come together, proving that there can be good even in the darkest of times.
You can find an endless amount of support online – don't hesitate to reach out if you think you need help.
Our team is here to help you, if you're concerned about your business and would like advice regarding changes to digital marketing or software and web projects please get in touch. Give us a call on 0117 205 0425 today and we'll do our best to support you.
Stay safe and look after yourselves.