If you don't use responsive design yet, it's time you catch up or be left behind.
Have you ever tried to view a website on your phone, and been faced with a super zoomed in and low-quality page?
With the rise in users browsing on their mobiles, it's important now more than ever for site designers to adapt to the expectations of users.
But what exactly is responsive web design?
Responsive web design does exactly what it says on the tin. It's the solution to the consumer expectation that websites should look good on any device.
The design of the site responds to the user's preference as it adapts to the different size and resolution required across devices.
There is no longer the need for mobile and desktop versions of a website, but rather one that scales and responds intuitively depending on the device a user is on.
So why should I consider responsive web design?
There are several reasons why your business could benefit from responsive web design. But rather than list out each one and bore you death, we've picked out the top 6 reasons why responsive web design can help your business. 
So let's get into it…
Reason 1: Mobile traffic continues to rise
The web has moved at an incredible pace over the past few years. And at the forefront of it all has been the continued increase in mobile web browsing. So much so that it has, for some time now, been the first choice of device for internet browsers.
Studies show that as of 2016, mobile users have overtaken desktop browsing. Responding to the growing numbers of users using different devices is important for companies that rely on their online presence.
As mobile browsing is becoming the norm, most mobile users admit to abandoning sites that don't have responsive design.
Additionally, 74% of users agreed that if a site worked well on their phone, they'd be more likely to visit it again.  
If you've ever opened a website on your phone and ended up having to shut it because you just couldn't view it properly, you know exactly why responsive web design is so important.
If a site does not have a responsive design, images are often distorted or inflated and this can be frustrating to your users, and inevitably lead them to go to your competitor for the products or services that you provide.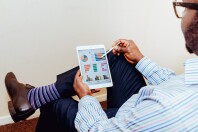 Reason 2: Google approved & better for SEO
Google takes the responsiveness of your site seriously and has stated that they generally favour responsive sites over non-responsive sites in its search rankings.
What's more, by creating a responsive website you are making it easier for Google to crawl your website and reduce the margin for error with on-page SEO.
Any websites that are not optimised for smaller screens can now fall prey to a decline in Google rankings and for these reasons, it is wise to look at finding a website provider that can help you build a fully responsive, mobile-friendly website.
Reason 3: Better user experience
Websites that are responsive tend to load faster on all devices. This appeals to the ever-shrinking attention span of mobile and tablet users and leads to better user experience.
This, in turn, results in a positive perception of your brand. Users feel valued if you make the effort to improve their experience with your company.
Responsive web design is here to eliminate the things we dread most, shrunken websites and side-scrolling!

Reason 4: Easier maintenance
Back when mobile browsing first became a priority, the most popular solution involved having separate desktop and mobile sites. That's double the amount of maintenance and updates.
Nowadays, it makes much more sense to have one site that shares the same URL and is accessible to all devices.
Reason 5: Higher conversion rates? Yes, please!
When lower bounce rates and better SEO ranking combine, the result is often higher conversion rates. Add into the mix a fantastic user experience and seamless navigation between the pages on your website, and you have yourself a strong model for success.
The easier you make it for your website visitors to find what it is they are looking for — or succinctly explain what can you do for them — the more likely you are to convert them.
Presenting this information clearly across multiple devices only helps this situation. And this is another reason why responsive web design can be a great help for your business

Reason 6: Decreased bounce rates
No-one likes a high bounce rate.
For one, it tells Google that your page perhaps isn't as relevant as it could be at solving your user's needs or answering their questions. And this can negatively impact your Google rankings for that particular search query
Content is not always the problem, however. The design has just as big a part to play in a users experience of your website. And if your content is great but difficult to digest on mobile or tablet devices, then users will become frustrated and quickly leave in search of a better answer to their questions.
So what should we takeaway from this?
With Google themselves actively backing responsive web design since 2015 it's no wonder a number of businesses nowadays are using responsive web design. 
That said there are still a number of sites out there not using responsive web design. And they could potentially be losing out on online customers actively looking for their products or services. 
Think of it this way. With the continual rise of mobile web browsing, people are looking for answers to their question on the go.
Mobile is often where they start their search process, and if you fail to provide an adequate experience at this point then you are at risk of loosing potentially valued custom. 
It all comes down to good user experiences.
By making it as easy as possible for your users to find what it is they are looking for — no matter what device they are on — you are not only increasing the chances of them getting in touch with your business but you are also making their own lives easier. 
More on that can be seen in our article on the 5 reasons why UX design is important. 
So where next?
The future brings many more challenges for responsive web design. Considering how incredibly fast technology is advancing, the introduction of virtual reality headsets and augmented reality games pose new challenges to developers.
Hopefully, by now, you understand why you need a responsive web design. The benefits really will make an improvement to your user's experience.
And if you have any questions, or just want to have a chat about responsive web design, get in touch today.